Licensed in 1972 I live in Brunate, 600 meters above sea level and 400 above the city and the lake of Como. From my QTH I have a wonderful view of Como and of the lake of Como. The landscape is clean and open from South-East to North-West, through South. Unfortunately my takeoff to East is 15 degrees, not so good to work that direction.
Since December 2009 I am back again on 2 meters Tropo, MS and EME after more than 20 years! My first MS QSO in 2 meter was from I2MBC station on August 9, 1976 with PA0VV and my first EME QSO was with WB0ZXU on September 16,1978.
HF rig: Icom IC-7300 + SPE Expert 2K-FA
HF antennas: 160 and 80 m wire dipoles, 40 m rotating dipole, 20/15/10m 3 element yagi, 6m 5 element yagi
V-UHF rig: Icom IC-9700 + Italab SSPA + MiniGPS (Leobodnar)
VHF antenna: 2x17 element F9FT with AZ-EL control
QO-100 RX: Pluto SDR, RSP-Duo, MiniTiouner, 80cm offset dish + standard LNB
QO-100 TX: TS-790@434MHz + DXPatrol + WIFI PA, 80 cm offset dish, POTY feeder
SDR software: SDRuno, SDR-console, HDSDR, CW and RTTY Skimmer Server, etc.

Station automation Software: Logger32, Writelog, QARTest, CWGet, WSJT, BV7, MMTTY, etc.

| | | | |
| --- | --- | --- | --- |
| My home | | | Brunate is the village on the hill; below Como |
| The two pictures range North - East - South | | | Panorama of Como and the lake |
I2SVA@I2SVA.IT - Alessandro Salvatico - Via ai Piani 43 - 22034 Brunate (CO) - Italy

Links:
A.Volta EME Como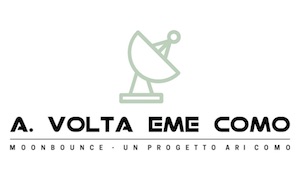 MMMonVHF
Logger32
Writelog
BV7
QARTest
MMTTY

Last update Apr 2021